Many of us make New Years resolutions in January only to forget about them by summertime. Summer, however, is a great time to identify and accomplish new goals. Though short, there's something about the fleeting sunshine that motivates us to do things sooner than later.
With that, there are a few things I wanted to share that are on my to-do list this summer.
Plant a patio garden
I should say, rather, that I want to keep my patio garden alive. I planted a few colourful pots last weekend and they are currently alive and doing well. They make me so happy just to look at and I so hope I don't kill them. I'm going to make a concerted effort to keep them watered and in the sunshine.
Pretty patio garden
Run in two or more 10K races
I am currently registered for two races later in the summer, the
Calgary Women's Run
(August 26) and the
Calgary Corporate Challenge
10K (September 9). I am going to do my best to train properly and stay injury free so I can follow through on my goal. I've done both of these races several times over the years and they are great fun. I find that registering for a race that is far into the future is a great way to stay motivated over a period of time.
Learn the basics of photography
This may be the most expensive item on my to-do list because I do not currently have a proper camera. I have always wanted to take good-quality photos but have been both intimidated by the complexities and unwilling to haul around a giant, ugly SLR camera. Enter, the Nikon 1 J1. This camera is about as big as a typical point and shoot model (with detachable lenses), but has the functionality of the larger high performance cameras. It's marketed to the serious amateur (which I aspire to be). I want.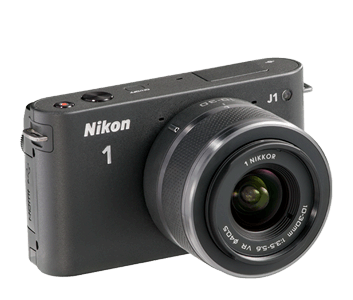 Nikon 1 J1 compact camera, around $600
Create a kick-ass travel itinerary
My wonderful boyfriend and I are headed to Eastern Europe in September, and for the first time in my life, I've agreed to wing it. Sort of. I'm a planner, I like to be prepared and I find spontaneity highly annoying. So, we've come up with a compromise. I can blow my brains out googling possible hotels, sights, and restaurants ahead of time, but we won't pre-book anything. We want to keep our trip as flexible as possible, while minimising the possibility of sleeping in a Czech slum. I plan to make a binder with hotel options, city maps, tour contacts and must-see attractions that we can carry along with us.
Prague, Czech Republic (one of the cities we plan to visit on our trip)
Hike Mount Yamnuska
This mountain is one of the first you see when driving west from Calgary into the beautiful Rocky Mountains. While the view in the photo below looks quite intimidating, there are well marked routes up both sides and the circuitous hike is classified as moderate difficulty. We love to hike and try to get out on most weekends in the summer. The reason we haven't done this one yet is because in order to complete the circuit, there is allegedly a cable at the top that you must hang on to while traversing a particularly treacherous edge. But, it's time to man up and get it done. Isn't that what life's about?
Mount Yamnuska, near Canmore, Alberta
What's on your summer to-do list?